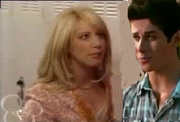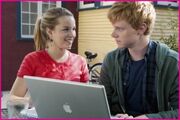 Teddy's Boyfriend the Werewolf Pt.2:Ash is Back is a season 2 Good Luck Charlie fanon episode.
Ash visits to see Stella but discovers Teddy and Jason and gets jealous.He has reverted back too his old look.He tries to get Teddy back but he gets in a fight with Jason and is beaten and knocked out.Stella is watching and gains interest in Jason,however she is turned down.Ash then wakes up and brakes up with Stella for flirting with Jason.Ash also becomes interested in Katie.Meanwhile Charlie has her 3rd birthday party.
When Jen asks PJ and Gabe to help her protest against the mayor, who wants to get rid of The Denver Learning Center (that is supposed to be for doing projects, studying, clubs, etc., but people rarely go there), they say yes but try to sneak off because they think it's boring and they don't want a learning center.
Ash perminantly Returns in this episode,and becomes a recurring character
This is Katie's first apperence