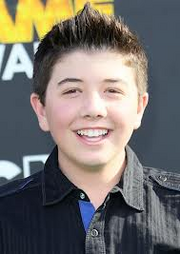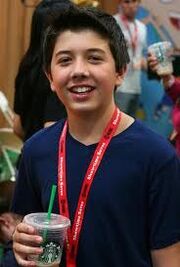 Gabe Duncan




Information

Gender
Male
Age
14
Profession
Mischief maker
Portrayed by
Bradley-Steven Perry

Family and Friends

Siblings
Teddy Duncan, PJ Duncan, Skippy Duncan, Charlie Duncan, Toby Duncan, Amy & Kayla Duncan
Parents
Amy Duncan, Bob Duncan
Grandparents
Frank Duncan, Linda Duncan, Hank Blankenhooper, Petunia Blankenhooper and Chet Brown step-grandfather
Children
None
Love Interests
Marion Sparklez (ex-girlfriend), Jo Keener, and Chloe Thompson (girlfriend)
Friends
Jake
Frenemies
Jo Keener
Enemies
None
Pets
None
This page is for Gabe Duncan from ANYBODY'S viewpoint!You may edit it in any way!
Gabriel "Gabe" B. Duncan (born November 23, 1999)[2] is the second youngest Duncan child. Gabe is used to being the middle kid of the family and dislikes the fact that he never gets noticed, he shares the spot with Skippy. He is portrayed by Bradley Steven Perry. Gabe is the middle son of the family. It is revealed the is most that he is most feared kid in the third grade and he is in the ninth grade now.
Personality
Edit
Gabe did not approve of his sister Charlie's birth. He was the last of the main characters to get used to Charlie, which is normal to an average child. You may see Gabe become more fond of Charlie and at rare times agree to help take care of her. Like most, he uses the baby at times such as one episode where Gabe and his older brother PJ used Charlie as a baby model to get $150.00.
Gabe is known for being a troublemaker, sarcastic at most times, and apparently lazy. But he is also known as cunning and determined. He at times tricks PJ into things.
He is also a member of a basketball team that his dad (Bob Duncan) coaches, and even through his negative reputation at school Gabe was voted class president ("Teddy's Little Helper").
He gets annoyed by Charlie but truly loves her at heart.
He has a good relationship with Skippy, but that's mostly because they can blow stuff up, and act out to get attention.
Background Information
Edit
Gabe has an e-mail address ("Charlie is 2!").
His online account on the video hosting site is called "Gabe D." ("Charlie Goes Viral")
As of Good luck Charlie Fanon time,he is currently 14
Community content is available under
CC-BY-SA
unless otherwise noted.