Charlie Duncan

[[|250px]]


Information

Gender
Female
Age
4
Profession
{{{profession}}}
Portrayed by
Mia Talerico

Family and Friends

Siblings
P.J. Duncan
Teddy Duncan
Gabe Duncan
Skippy Duncan
Toby Duncan
Parents
Amy Duncan
Bob Duncan
Grandparents
Linda Duncan
Frank Duncan
Petunia Blankenhooper
Hank Blankenhooper Chet Brown Step-grandfather
Children
None
Love Interests
Randy Bouvier
Friends
unknown
Frenemies
{{{frenemies}}}
Enemies
{{{enemies}}}
Pets
{{{pets}}}
Charlotte "Charlie" Duncan (born February 20, 2009)
[1]
is the youngest daughter of the Duncan family.
Teddy
, her older sister, is making a film for Charlie to help her with their "special" family. She is portrayed by
Mia Talerico
. She's two in season two. She spoke for the first time in
Sleepless in Denver
. She attends
Little Dolphins Preschool
.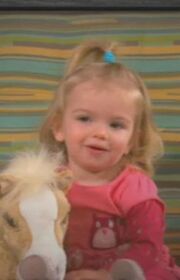 Personality
Edit
She is a very cute, lovable, and funny baby. As she adjusts to her "special" family Charlie is shown to be a "special" part of her family too. She is loved by almost everyone she sees.
She can also cause trouble for the family and make a bit of a mess in most situations ("Blankie Go Bye-Bye"). She loves her blankie, ducks, and bananas ("Study Date").
Personal life
Edit
Charlie was born to Bob and Amy Duncan.
PJ and Gabe took her to the park, they ran into a photographer and he wanted to take some photos of Charlie.
Relationships
Edit
Gabe says to Charlie that she ruined his life, on the video diary. Gabe says that since Charlie was born, everyone is ignoring him. He likes it when Charlie pukes milk on Teddy ("Study Date"). Gabe says he's only at Charlie's first birthday party for cake ("Charlie is 1").
However, Gabe cares for Charlie at times. When Gabe's enemy Hugo saw Charlie stole the glasses, he was worried. He helped distract Hugo by making a mess to Hugo and his store ("Charlie Did It!"). Gabe seemed very upset when Jo attacked Charlie's appearance for her own campaign ("Duncan's Got Talent"). Gabe tried taking care of Charlie when the rest of the family left. He tried feeding her, trying different fruits. He made a shirt diaper for her when he ran out of diapers ("Charlie in Charge").
PJ sometimes uses Charlie to get girls.
It is obvious that Teddy loves her little sister, Charlie. She makes video diaries for her in every episode.
Mason Heglin
Edit
Charlie might have felt sorry for Mason that he didn`t win the race but might have a crush.
Unnamed Toddler
Edit
Charlie first loved him but dumped him after seeing him cheating on her with another toddler, ("Snow Show, Part One", "Snow Show, Part Two").
Background Information\Edit
,